The Great Library Escape
Escape Room! Find out who kidnapped the librarian!
The Great Library Escape
2018-02-23T00:00:00-05:00
2018-02-24T23:59:59-05:00
Escape Room! Find out who kidnapped the librarian!
When

Feb 23, 2018

to

Feb 24, 2018

(US/Eastern / UTC-500)

Where

Luther Area Public Library

Contact Phone

231-797-8006

Add event to calendar

iCal
Come to the Library to try out your wit and knowledge on an Escape Room! What is an Escape Room you ask? Just like it sounds! You are given a time limit to find your way out of our Library back room.  Well that may sound easy… but in order to get out you have to solve puzzles and find hidden clues! If you escape and solve the mystery in time you will be entered in to win a prize! 
Did she say prize?? I sure did! 
If you and your group make it out of The Escape Room within the given hour time frame and correctly tell us "who done it" then your names will be entered in a drawing to win a Kindle Fire with a $ Amazon Gift Card!
Please call the Library to reserve your spot in a time slot ahead of time. There will be a limit of 10 people per time slot. 
Cost is $10 per person 
Get a discount for those who want to register together for the same time slot! $70 for a group of 10 people (That just $7 per person!)
This event if geared towards all ages and families! Get out and have a fun family bonding time on this (probably) cold and wintery February weekend.  The escape room will need some adult help to finish the room in time.
Come and enjoy at the Library with us! =)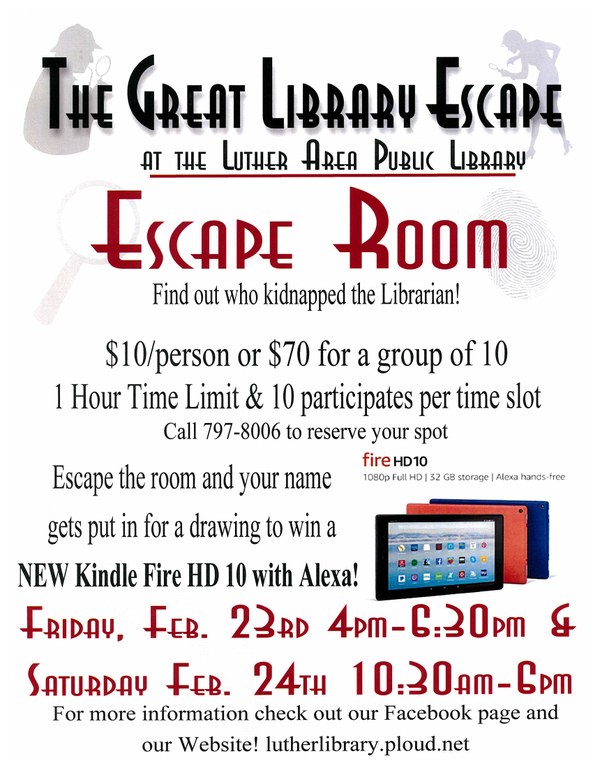 Escape Room Times:
Friday, February 23 
• 4:00pm-5:00pm
• 5:30-6:30pm
Saturday, February 24th 
• 11:00am – 12:00pm
• 12:30pm – 1:30pm
• 2:00pm – 3:00pm
• 3:30pm – 4:30pm
• 5:00pm – 6:00pm
Please contact the Library at 231-797-8006 Library to reserve your spot. 
Due to limited availability, if you are not here within 15 minutes of your slot, your place may be given to someone else. You will be locked in the back room at your designated time slot.